ESCALADE FEATURES
Due to current supply-chain shortages, certain features shown have limited or late availability, or are no longer available. See the window label or a dealer regarding the features on an individual vehicle.
EXTERIOR

Escalade has the power to captivate those around you like never before. Its iconic design first announces your arrival, then beckons family, friends and followers to join you on the journey.


STANDARD 22" ALLOY WHEELS

Every 2023 Escalade makes a statement all its own. Set your standout style in motion with 22" alloy wheels that are distinctive and designed to accentuate each trim.


ULTRA-MODERN LIGHTING

Thin, sleek horizontal headlamps separate the Escalade full-size SUV from the rest. Look closely and find an elegant etching of the Cadillac script in each headlamp, along with ornate details around the headlamp housing.


LIGHT BLADE LED LAMPS

Onlookers will be in awe as they watch the glow of the 3D, 3-foot-tall LED taillamps illuminate the night. Jewel-like light blades feature choreographed animation as you approach and walk away, as well as a light-catching Cadillac Crest laser etched inside.


SPORT GRILLE
The Escalade Sport trim features a unique Cadillac V-Series-inspired, blacked-out grille—striking the perfect balance between brawn and sophistication.

SOPHISTICATED STYLING

Bold lines and exclusive accents emphasize the vehicle's luxurious character. One look and the world knows.

INTERIOR

Success isn't just about where you're going—it's also about how you get there. Escalade transports you in refinement that is itself a deeply rewarding experience.

OBSESSIVE CRAFTSMANSHIP

Every painstakingly curated material—from natural wood finishes to hand-finished leather appointments to available premium fabrics—comes together to create an atmosphere that's as inviting as it is intricate.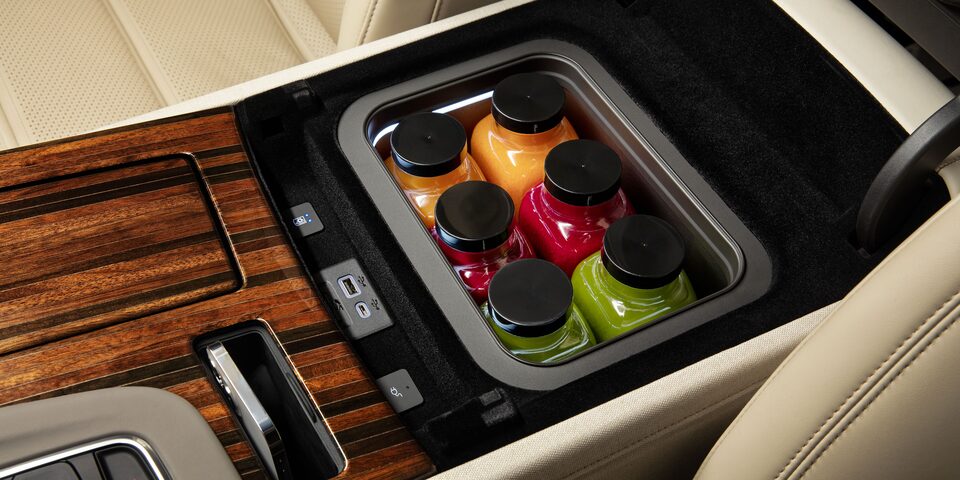 CONSOLE REFRIGERATOR WITH FREEZER MODE

Conveniently located in the centre console, the available Console Refrigerator with Freezer Mode places ice-cold refreshment comfortably within reach. This generously sized, well-insulated compartment can hold up to six 24-oz. bottles of your go-to beverage at temperatures ranging from 5 to -5 degrees Celsius when in Freezer Mode.

HEATED AND VENTILATED SEATS

Available 16-way power driver and front-passenger heated and ventilated Full Semi-Aniline leather seats† with massage settings can help you and a front passenger stay relaxed and comfortable—in cold weather, on long drives or after a long day of pursuing your ambitions.


AMBIENT LIGHTING

Create a cabin that mirrors your mood. Ambient Interior Lighting and light piping feature 26 colour options, allowing you to select from a spectrum of calming hues.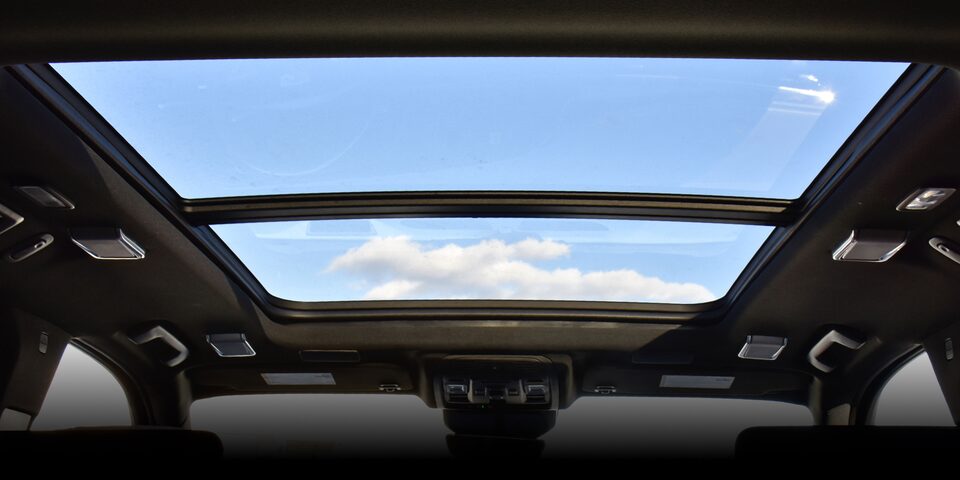 ULTRAVIEW® SUNROOF

Open up new perspectives with the available UltraView sunroof, which treats the driver and all passengers to panoramic views. Tilt, slide, express-open and -close, and sunshade control give you wide-open options for enjoyment.


CARGO CAPACITY

Escalade delivers a max of 3426.3 L (121.0 cu. ft.) of cargo room with rear seats folded down†—and a generous max of 4043.6 L (142.8 cu.ft.)† in Escalade ESV with rear seats folded down—so you're ready to take on your grandest adventures.
TECHNOLOGY

Escalade is made for those who embrace the future. Its luxurious appointments include innovations designed to enhance the time spent inside—whether you are behind the wheel or along for the ride.



CURVED OLED WITH 38" TOTAL DIAGONAL DISPLAY

This display isn't just big—it's curved. The industry's first curved OLED display has twice the pixel density of a 4K TV. This leading-edge technology enables bold imagery, perfect blacks and an expansive colour range.


AKG STUDIO 19-SPEAKER AUDIO SYSTEM

Exclusive to Cadillac. The standard AKG† Studio 19-speaker audio system brings professional high-fidelity sound to the 2023 Escalade full-size SUV. This system is custom tuned to the interiors of the Luxury, Premium Luxury and Sport trims for optimal sound quality.

AKG STUDIO REFERENCE

True audiophiles appreciate the available AKG† Studio Reference audio system that provides 36 speakers—the most available in its class—throughout the cabin at different height levels and locations, creating an immersive, 360-degree listening experience.

REAR-SEAT ENTERTAINMENT

Available Rear-Seat Entertainment provides first-class enjoyment, no matter where you sit.
For second- and third-row passengers, the system lets you play video and audio from compatible devices to 12.6" diagonal high-definition touchscreen displays mounted on the rear of the front seats—the largest screen size in its class.

AUGMENTED REALITY-ENABLED NAVIGATION†

Working in tandem with Navigation, this viewing mode projects a live street view in front of the vehicle onto the Cluster Display with turn indicators and other directional information overlaid on the scene.
Integrated audio prompts come from either the left or right speakers, giving you an intuitive edge in the proper direction.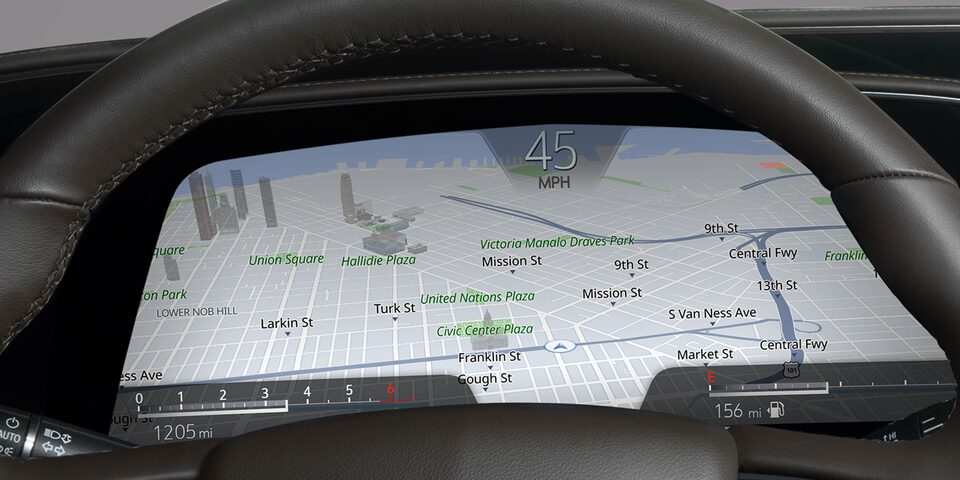 IN-CLUSTER NAVIGATION

See more along the way. Navigation† view takes full advantage of the curved OLED Display, placing a full-cluster map in the gauge cluster.


FULL-COLOUR HEAD-UP DISPLAY

Keep your goals clearly in front of you. This available feature projects key information—including speed, navigation, phone and music details—onto the windshield in your line of sight, helping you remain focused on the road ahead.

CONVERSATION ENHANCEMENT

Ensure the whole crew is in on the conversation. Interior microphones capture the voices of the driver and front passenger and naturally blend them with the audio played to the second and third rows. The available AKG* Studio Reference 36-speaker audio system includes rear microphones that project conversation from the back rows to the front of the vehicle as well.

ENHANCED AUTOMATIC PARKING ASSIST†

Available Enhanced Automatic Parking Assist can detect parallel and perpendicular parking spots while your vehicle is moving forward below 28 km/h. When the feature has detected a large enough parking space, you'll hear a beep, and instructions in your instrument cluster or your infotainment display will tell you to stop and shift to Reverse. The feature automatically steers, brakes and shifts gears to park your vehicle. It can also help you exit after parallel parking.
Super Cruise™† is an available hands-free driver assistance technology for use on divided and compatible highways. The system steers the vehicle to maintain lane position or to perform a lane change, under certain conditions, while also monitoring your attention to the road.

Working with the Adaptive Cruise Control† system, Super Cruise reduces the need for you to frequently steer, brake or accelerate under available operating conditions.


KILOMETRES MAPPED

With an attentive driver, and under the proper conditions, Super Cruise†-equipped vehicles can permit hands-free operation of the vehicle. Super Cruise functions with Cadillac Connected Services† and uses real-time precise positioning, cameras, sensors and LiDAR map data to help detect every curve, helping to make long drives and commutes comfortable and more convenient.

AUTOMATIC LANE CHANGE

In some cases, the available Super Cruise† technology may determine that changing lanes is optimal. Automatic Lane Change will automatically activate the turn signal and initiate the lane change when selected in the settings menu and changing lanes is identified as optimal for an efficient and smooth ride.

LANE CHANGE ON DEMAND

The 2023 Escalade is equipped with Lane Change on Demand, which allows the Super Cruise† technology to steer to perform a single lane change under certain conditions when requested by the driver.

Super Cruise offers an ever-growing network, so you can travel on over 320,000† km of compatible roads throughout the U.S. and Canada.

PERFORMANCE

When Escalade is your ride, you command attention. Move confidently in the spotlight with impressive power appropriate to your status.



AIR RIDE ADAPTIVE SUSPENSION

Composed of electronically controlled air springs, the available Air Ride Adaptive Suspension is precision-crafted to help elevate the isolation and smoothness of your ride. Further optimize your driving the experience by choosing from available drive modes.

STANDARD 6.2L V8 ENGINE 
Command the road with the smooth delivery of 420 hp and 460 lb.-ft. of torque with premium gasoline. The Dynamic Fuel Management system varies the number of active cylinders, from 2-cylinder operation to the maximum power of all 8 cylinders, helping to optimize performance and efficiency.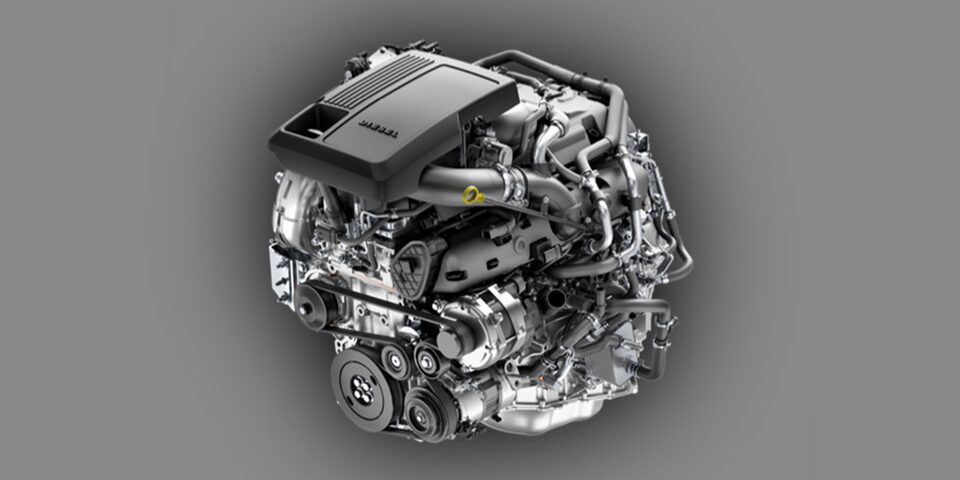 AVAILABLE DURAMAX 3.0L DIESEL ENGINE
Up your efficiency with the available Duramax® 3.0L Turbo Diesel 6-cylinder engine, which delivers 277 hp and 460 lb.-ft. of torque.


6.2L SUPERCHARGED V8 ENGINE

Own the road with a 6.2L supercharged V8 engine, standard on Escalade-V. This mega-output engine— built by hand† and signed by the engine craftsman – continues the legacy of legendary Cadillac craftsmanship.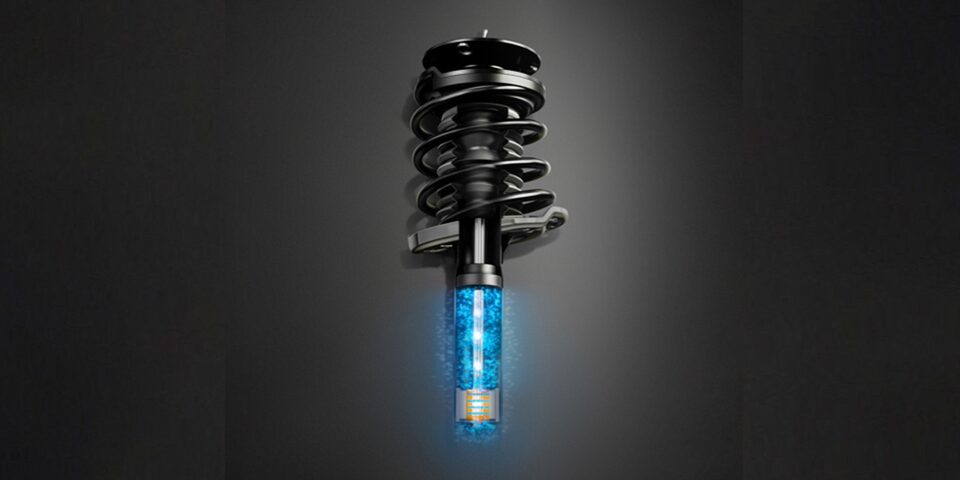 MAGNETIC RIDE CONTROL

To make your drive responsive and smooth, available Magnetic Ride Control reads the road 1000 times per second—this means the vehicle is reading every inch of the road at 96 km/h.


ELECTRONIC LIMITED-SLIP DIFFERENTIAL

Developed with experience from the Cadillac V-Series, the available Electronic Limited-Slip Differential (ELSD) intelligently reacts to road conditions, maximizing traction when you need a firm grip on the road, such as during rain and snow or while cornering.


SAFETY AND DRIVER ASSISTANCE
CADILLAC SMART SYSTEM: A SUITE OF STANDARD FEATURES
Buckle up and drive with added confidence. From Automatic Emergency Braking to Vehicle Diagnostics† and more, a suite of leading-edge safety and driver assistance features comes standard in your Escalade.

Safety or driver-assistance features are no substitute for the driver's responsibility to operate the vehicle in a safe manner. The driver should remain attentive to traffic, surroundings and road conditions at all times. Visibility, weather and road conditions may affect feature performance. Read the vehicle's Owner's Manual for more important feature limitations and information.

FONCTION ADO

Cette fonctionnalité aide les adolescents à adopter de meilleures habitudes de conduite. Elle active certaines caractéristiques de sécurité lorsqu'un porte-clés assigné à un conducteur adolescent est utilisé, et elle coupe la radio jusqu'à ce que les occupants des sièges avant aient bouclé leur ceinture de sécurité. Elle vous renseigne également sur le comportement au volant de votre nouveau conducteur.

DIAGNOSTICS DU VÉHICULE†

Cette caractéristique surveille les principaux systèmes d'opération de votre véhicule et vous fournit des mises à jour régulières au sujet de l'état de santé de votre véhicule.

ADDITIONAL SAFETY AND DRIVER ASSISTANCE FEATURES

Luxury manifests in many forms. Beyond the Cadillac Smart System, Escalade offers added innovations designed to help guide and protect.

DISPOSITIF DE VISION PÉRIPHÉRIQUE HAUTE DÉFINITION

Ce dispositif utilise plusieurs caméras pour afficher une vue en plongée numérique de la zone autour de votre véhicule. Il fonctionne à basse vitesse et peut vous aider à stationner et à éviter les objets à proximité. Vous pouvez sélectionner des vues supplémentaires sur l'écran d'affichage de la caméra.

CAMÉRA ARRIÈRE À AFFICHAGE INTÉGRÉ AU RÉTROVISEUR AVEC LAVE-GLACE, EN OPTION

Cette technologie fait appel à une caméra pour vous procurer une vue plus large et moins obstruée de la zone derrière le véhicule lorsque vous conduisez. Vous pouvez alterner entre la vue de caméra et le rétroviseur intérieur ordinaire.

SYSTÈME DE VISION NOCTURNE, EN OPTION

Lorsque ce système est activé, il peut vous aider à voir au-delà du faisceau des phares en affichant une image thermique qui signale la présence de piétons ou de gros animaux directement devant le véhicule, ce qui contribue à accroître votre confiance quand vous roulez après la tombée de la nuit.

AIDE AU STATIONNEMENT AVANT ET ARRIÈRE

Quand vous roulez à basse vitesse, ce dispositif peut émettre des alertes lorsqu'il détecte des objets devant ou derrière du véhicule pour vous aider à stationner et à éviter les collisions.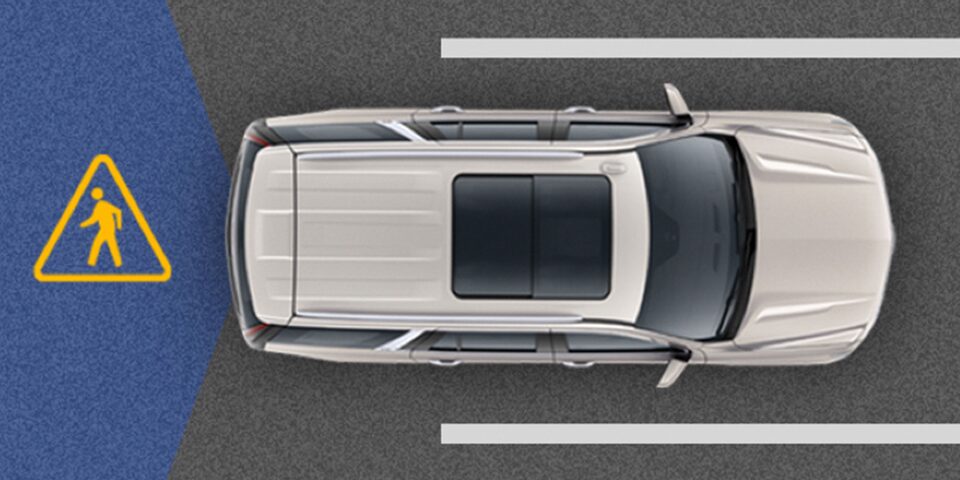 ALERTE DE DÉTECTION DE PIÉTONS À L'ARRIÈRE

Ce système peut aider à vous alerter de la présence de piétons détectés directement derrière le véhicule pour que vous puissiez réagir rapidement. Il fonctionne lorsque vous faites marche arrière en plein jour. Sa performance est limitée la nuit et lorsque la visibilité est réduite.

AIDE AU MAINTIEN SUR LA VOIE AVEC AVERTISSEUR DE SORTIE DE VOIE

Cette technologie fait tourner légèrement le volant pour vous avertir lorsque vous sortez par inadvertance des marquages routiers détectés, afin de vous permettre de diriger le véhicule pour rester en sécurité dans votre voie. Au besoin, l'avertisseur de sortie de voie peut aussi émettre des alertes. Le système n'émettra pas d'alerte s'il détecte que vous changez intentionnellement de voie ou si le clignotant est activé.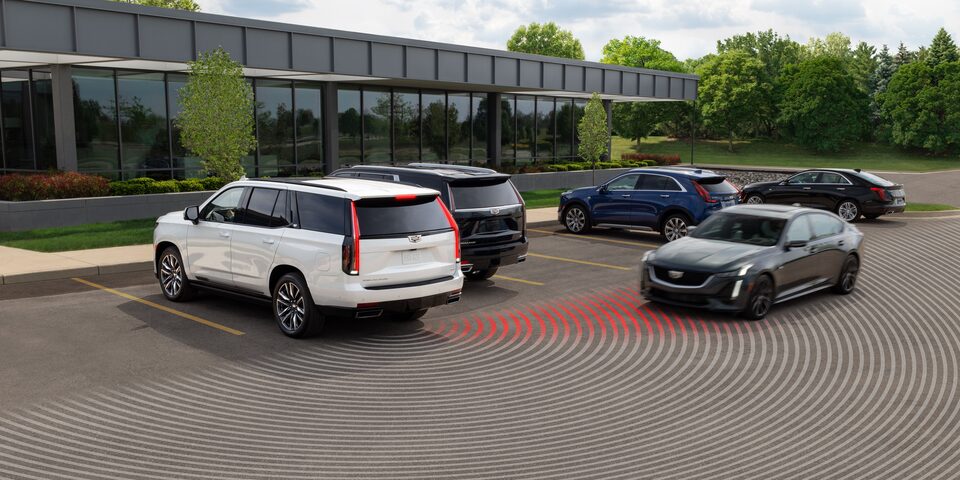 ALERTE DE CIRCULATION TRANSVERSALE ARRIÈRE, EN OPTION

Cette technologie peut vous avertir si elle détecte un véhicule s'approchant transversalement de la gauche ou de la droite lorsque vous faites marche arrière.

ALERTE DE CHANGEMENT DE VOIE AVEC SYSTÈME DE DÉTECTION D'OBSTACLES SUR LES CÔTÉS, EN OPTION

Cette caractéristique peut afficher des signaux d'alerte dans les rétroviseurs extérieurs lorsqu'elle détecte un véhicule en mouvement dans votre zone d'angle mort, ou un véhicule s'en approchant rapidement. Elle peut vous aider à éviter les collisions lors d'un changement de voie.

TENSION AUTOMATIQUE DES CEINTURES DE SÉCURITÉ, EN OPTION

Cette technologie peut s'activer automatiquement lors du freinage d'urgence ou des manœuvres soudaines et se désactiver quand les conditions de conduite reviennent à la normale.

FONCTIONNALITÉ BOUCLER POUR ROULER

Cette fonctionnalité empêche le déplacement du levier de vitesses hors de la position de stationnement tant que le conducteur n'a pas bouclé sa ceinture de sécurité. Elle s'éteint après 20 secondes et encourage l'utilisation de la ceinture de sécurité. Elle peut être allumée ou éteinte dans les paramètres du véhicule ou dans le menu de la fonction ado.

Safety or driver-assistance features are no substitute for the driver's responsibility to operate the vehicle in a safe manner. The driver should remain attentive to traffic, surroundings and road conditions at all times. Visibility, weather and road conditions may affect feature performance. Read the vehicle's Owner's Manual for more important feature limitations and information.