Meet the Escalade Makers. A group of forward-thinkers who helped bring the 2021 Cadillac Escalade to life in a deeply human way—through distinctly curated personas, astounding detail and technology that makes you the star.

---
---
EXTERIOR
---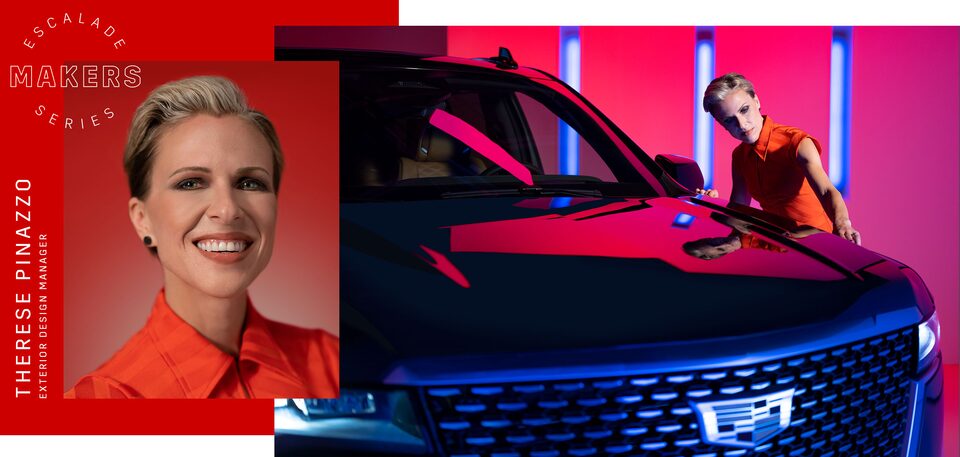 ---
FORMIDABLE FROM FIRST GLANCE
Escalade requires no introduction. That's why Exterior Design Manager Therese Pinazzo encouraged her team to stay true to its unmistakable styling—and execute every detail in its most sophisticated fashion.

Therese believes lighting builds the icon, a testament from someone who dabbles in LED performance art.
She's inspired by architecture, like "what you see looking up at a building in New York City." It's why the tail lamps on Escalade stretch a staggering three feet tall and have been coined "skyscraper" lights. Though their size was initially controversial, designers agreed the lamps define Escalade—and delivered them in a stunning, tapered form.

She finds working on Escalade both a challenge and an honour—particularly the opportunity to design its first-ever Sport trim, giving an already powerful character a more sinister mood. It's athletic, aggressive and bound to turn heads. And it's what she sees herself in.


---
---
---
INFOTAINMENT
---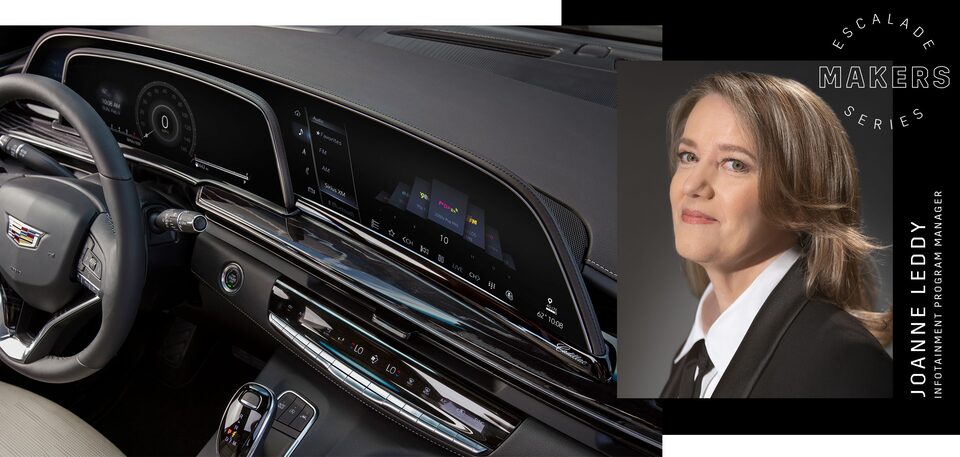 ---
THE INDUSTRY'S GIANT, GORGEOUS GAME CHANGER

Escalade debuts the industry's first-ever curved OLED display. That means Infotainment Program Manager Joanne Leddy had her work cut out for her during reveal—fielding hours of questions and demos. She laughs, recalling how many reporters "didn't want to get out" of the vehicle and the joy in watching eyes widen the moment the OLED lights came on.
Joanne says Cadillac leadership wanted to offer Escalade customers this groundbreaking technology from the start. Everything else had to work around it. It was a bold, purposeful decision to revolutionize the driver's experience. The world is heading toward technology at every touch. The way you interact with your vehicle should be no different.

But OLED was not achieved without challenges. For example, the team engineered a special light control film so the display could stand proudly without reflecting light onto the windshield. It had to be executed perfectly. From full-cluster AR Navigation† to crisp and colourful album art, what Escalade places at your fingertips, you won't find anywhere else.


---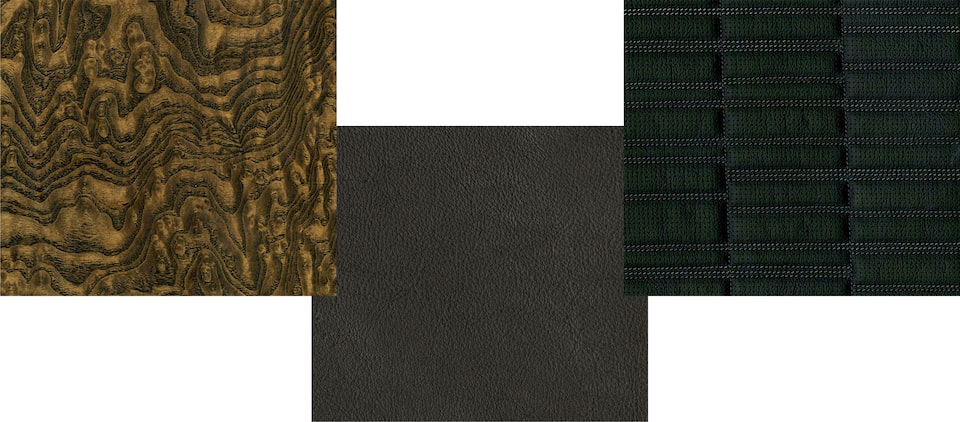 ---
---
INTERIOR

---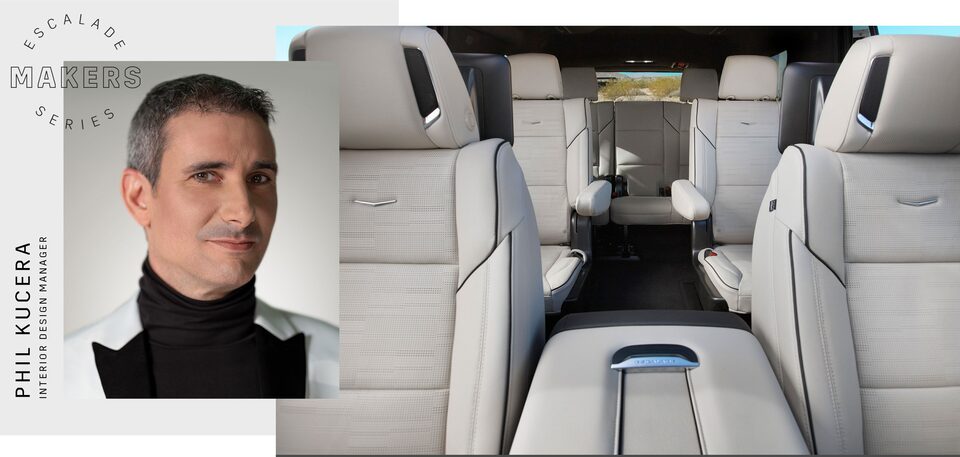 ---
AN ARTFUL INTERIOR TO ELEVATE EVERY DAY
Interior Design Manager Phil Kucera compares his job to running your own business. He fills the hybrid role of artist and engineer, collaborating with multiple departments to create this interior oasis. It makes him the perfect hype man. Phil's famous for his internal rallying cry—a sarcastic "It's only the Escalade" (with the occasional expletive for emphasis).
Of all the hats Phil wears, Creative is his favourite. "I keep art at the core. It's my personal philosophy." He draws every single day, and he studies modern sculpture and the shapes and forms of paintings for inspiration. It helps him think in 3D and solve for the tricky areas of an interface.
A degree in industrial design also helps Phil make "beautiful things in an industrial way." Cut and sewn materials fit Escalade like well-tailored clothing, millimeters-thin blade lighting elevates the ambiance, and laser-etched patterns are small surprises you'll discover down the road. Phil and his team made sure to fret the details, because…


---
---
---
SOUND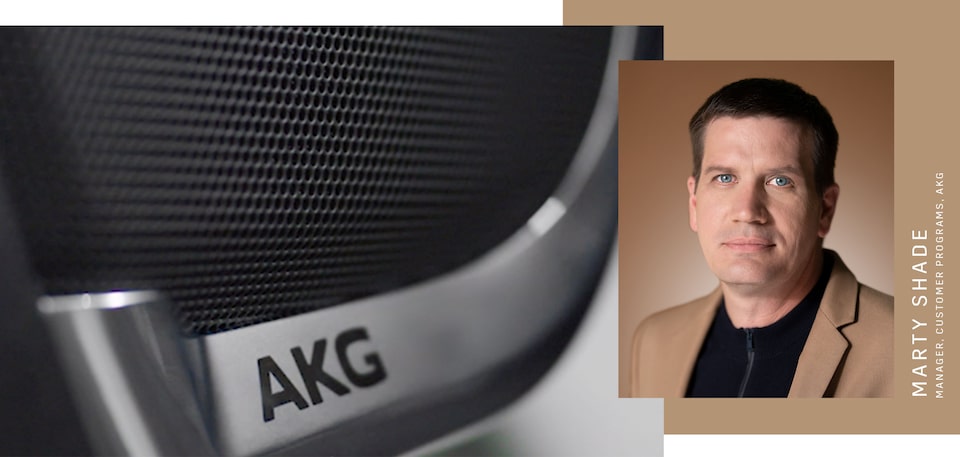 ---
ENGINEERED TO SONIC PERFECTION

Escalade debuts exclusive AKG®† audio systems, a collection of obsessively tuned speakers and amplifiers that boast studio quality, 3D Surround Sound—plus human-focused features like Conversation Enhancement, Front Passenger Volume Control and Navigational Rendering. Marty Shade, Manager of Customer Programs at AKG, is responsible for the acoustics.
Marty has worked with car audio since the age of 15, when his older brother spent a frustrating afternoon attempting to install new equipment. Marty had it done in 30 minutes. "After that, I was hooked," he remembers. That's good news, considering Marty and his team conducted 42 separate vehicle tunings to perfect the sound.

AKG has been the music industry's favourite microphone since 1947. As experts in high fidelity and industry-leading technology, it's only fitting their first automotive venture is with Escalade. "There's synergy between the Cadillac brand and AKG as far as the level of detail and attention that's paid to every aspect of the user experience," Marty emphasizes. Sounds like the perfect partnership.


---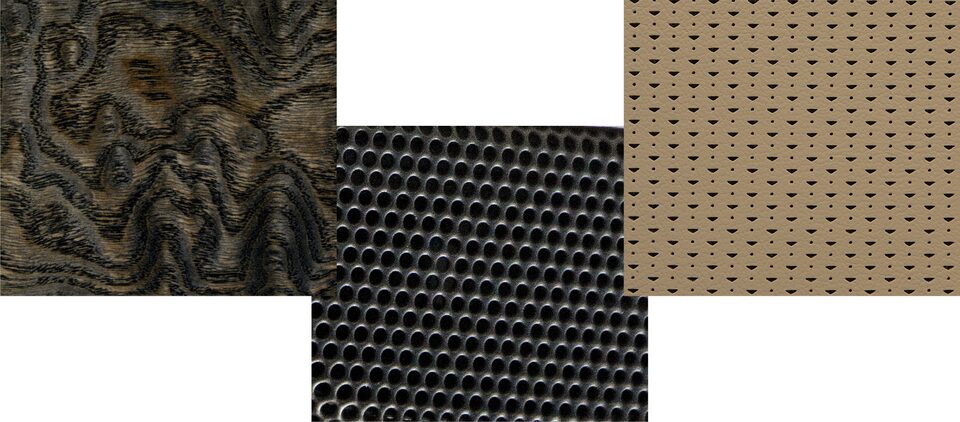 ---
---
COLOUR & TRIM

---
DESIGN INGENUITY THAT'S JUST YOUR STYLE

Escalade takes form in detailed personas featuring six woods, two quilting patterns, four perforation patterns and a variety of colours, threads and stitch patterns. Colour and Trim Manager Michelle Killen compares her approach to interior design: a well-curated room requires a sofa from here, a table from there and a rug from somewhere else. It tells a personal story.
That's why Michelle studied social media for inspiration, finding self-made people with a taste for earned luxury. What do their homes and handbags look like? How does that premium experience translate to a vehicle? Each trim persona is vastly different, yet distinctly Cadillac. She wants you to pick a favourite.

What Michelle finds remarkable is the victory in variety. Every single interior persona she presented to leadership on day one was achieved. She recalls admiring the imagery, woods and colours on the design wall and knowing Escalade could be executed no other way. Because "Escalade is the benchmark. This sets the standard for how we see Cadillac."


---
---
---
INNOVATION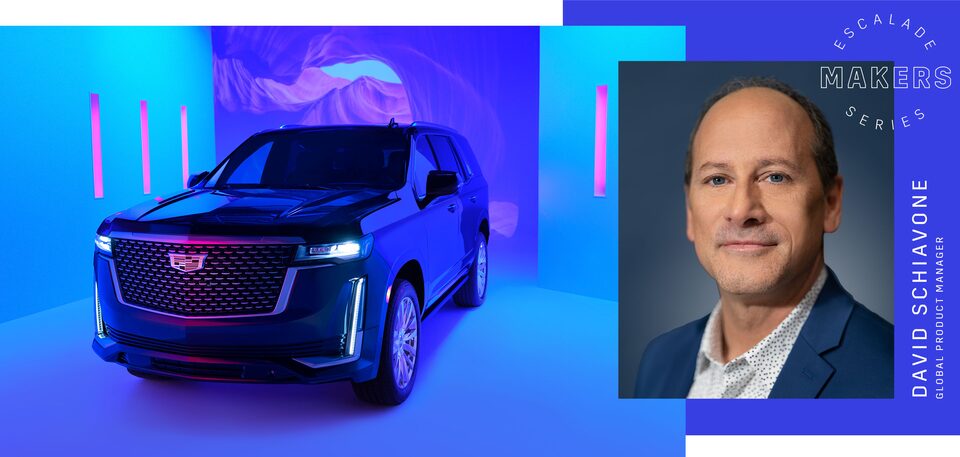 ---
PRESERVING A LEGACY OF LEADERSHIP

Global Product Manager David Schiavone has been working on Escalade since the first generation. He describes the vehicle's meteoric rise as grassroots—a story of luxury unfolding via the pop culture masses. Professional athletes could fit comfortably inside; musicians and celebrities wanted to make a statement.
A father of three, David says the evolution of Escalade feels "like watching a fourth child grow up." Under his watch, Escalade has been number one in the segment for 15 of its 21 years of life in the US market. But you don't stay at the top by resting on laurels, and he can confidently say this next generation of Escalade competes head-on with anything in the market.

He lists a few crowning achievements: the record level of design execution, industry-defining technology like available Super Cruise™ driver assistance feature† and curved OLED display, exclusive AKG®† sound systems and improved third-row leg room. That's the beauty of what David describes as the "catch all" role of product manager. He gets to be excited about everything.


---
---
---
Unlike anything else on the road. Make your way.

---
---